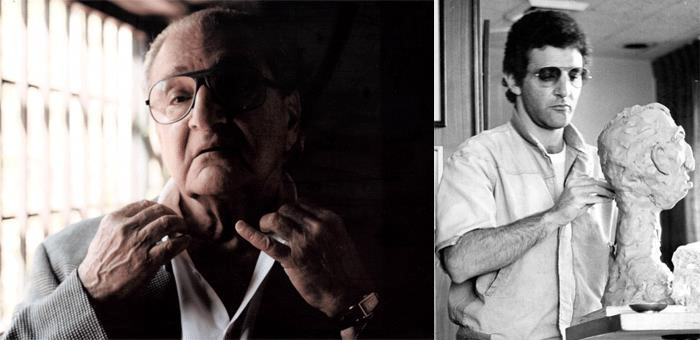 It wasn't happening in Chicago. Great city to grow up in. But after Art School, I lost my job - I wanted to create the ideas, not cut mats or run errands. So, two lane Route 66 to Hollywood where guys like Brando and Dean had made everything new. Forgot commercial art and tried to get into acting, but that didn't happen either. Ready to leave and go "wherever", a press agent I was playing ball with found out I had been an artist and said, "If you ever do it again", call me. I needed some money bad, so I called him and did a piece on Judy Garland being congratulated for her success at Carnegie Hall.
Big agent Freddie Fields represented her and called me in. Then Warren Cowan - king of publicists - called me in for a Sammy Davis Jr. ad. Long story short, I became a star "overnight". I did ads for everyone and stuck my name on all of them. After all, I didn't come here to remain anonymous.
A couple of years, a beautiful studio on the "Sunset Strip", and television showed up. The Partridge Family, The Waltons, The Bold Ones, etc... I could go to the club for dinner and watch my stuff on every network. The sixties were a dream career come true. The seventies were wide open. Wild, anything goes! The adventure of a lifetime. The early eighties, we shook it out, some recovered... some didn't.
When my hands quit shaking, I did some good things. The Y&R, North and South, I and II, Spenser for Hire, The Carol Burnett Special. That one got me an Emmy in 1987. My father and best friend missed that by a couple of years. So it didn't mean as much. But it's nice to have it. The UA logo debuted on "Rocky III" and I felt bad - David Begelman, who called me to do it, was gone.
Sammy Davis, I just loved. Otto Preminger was the most fun of all of them. Sinatra, no one would even stand near him he was so big. Same with Garland! McQueen was the good guy you all figured he was. Kirk Douglas hugged me when I told him "Lonely are the Brave" was a great film. No one saw it! "Greg" Peck is how he introduced himself. Hovered over my shoulder as I sketched Bobby Darrin on the set of Capt. Newman M.D. And what else: "I've shared the dinner table with Gary Cooper, Edward G. Robinson, James Cagney - and all in the same evening.
I've experienced entire theatre audiences erupt with applause at my title work. I've sketched the crooners who I danced to in High School and College and who set the mood for my private memories.
I've had it all. Hollywood gave it to me.
Sandy Dvore

Shortly before midnight, on November 20, 2020 - Sandy Dvore peacefully passed away in the company of his beloved dog, "Kid" and family. He will be sorely missed, but he left us with an incredible legacy.